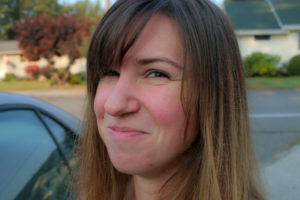 Danita Dunlap is a Partner at Prime Sash,LLC located in Bellingham, Wa.
---
Why you should be thinking about Storm windows.
It's nearly Fall, and you know what that means -beautiful trees, holiday prep, lots of spiders and some chilly, wet weather. While we can't help you with the holiday prep or the spiders, we can offer you some helpful tips to deal with drafty wood windows!
Single pane wood windows have a lot going for them – they last hundreds of years and often feature wavy glass or intricate designs that add charm to your home. That being said, with the exception of the glorious Betty White, anything that has been around for that long will need the occasional face lift!  A full restoration may be needed to bring the windows back to 100% functionality. This includes weather stripping, which will create a seal when the window is closed to keep out cold air and moisture.
If you aren't in a position to have your windows restored yet, or if you are on a restorer's waiting list, the best heat saver you can get is a set of storm windows. These are the precursor to today's double pane window – a second single pane window that sits a few inches out from your current window (view video below). This adds an additional barrier from the elements, insulating your home from the cold, wet weather and will also help to prevent further damage to your existing window.

Not only do storm windows help to keep the cold out and the heat in, they'll also come in handy if you choose to have your windows restored. It's much more pleasant to have a storm window in place when the restorer pulls your interior window than to have the opening boarded up, and will last several years, prolonging the life of your newly restored windows if used regularly during the seasons with harsher weather.
Not interested in storm windows? Keep an eye out for future blogs with additional ideas for keeping your windows as functional as possible as you work towards a long-term solution.  
Stay warm!
Danita Dunlap
Prime Sash,LLC
Bellingham, WA